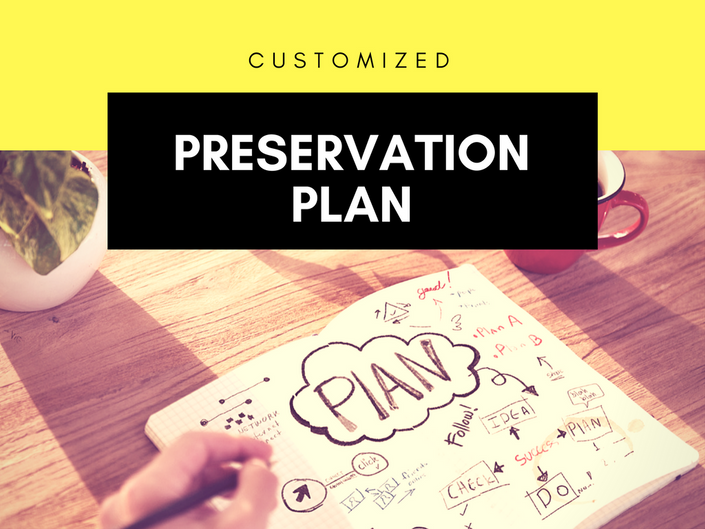 Custom Preservation Plan for Your Collections
Preserve This provides custom preservation plans for your collections.
An ounce of prevention is worth a pound of cure!

A Site Visit. An in-person visit with a preservation specialist who will survey your collections and the facilities that house the collections.
A Preservation Plan. A preservation plan tailor-made for your institution.
Follow-up Help and Advice. After the initial site visit, you will have the opportunity to consult with your preservation specialist with 3 one-hour consulting sessions. Use these sessions to report on progress, request further advice, and address any challenges that may have arisen.

A report of your collections detailing what you are doing well, what needs some work, and what needs immediate improvement.

A list of short-term, medium-term, and long-term preservation goals for your collections.

Storage solutions that are practical for your collection and easy to maintain for your staff.


A suggestion of available preservation grants that could benefit your collection.

Save Money.
Think about the cost of replacing your most valuable items. Think about the cost of having to replace your entire collection. Think about the cost of hiring a conservator to repair a badly stored item. You'll save money in the long run if you are properly prepared.
Develop a Long-Range Preservation Plan.
Your long-range preservation goals will now be actualized with a direct, clear-cut plan specific to your collections that is broken down into steps for easy implementation.
Win Grants.
Would you like to properly re-house your entire collection? Do you have a deteriorating collection you would like to digitize to preserve the original items? Did you know that there are grants your institution can apply for that can help you accomplish these projects? When you have a customized preservation plan created, you can use the report you are given to help you win grants.

We pride ourselves in having a high touch, personalized care element in all that we do, and we're here to support you in making the right decision in selecting a preservation plan for your organization. We're here to answer any questions you might have! Send us an email at [email protected]